I have absolutely no idea why I took this picture :) I think I was inspired by Jess's big little things post...plus I was home alone with nothing to shoot.
This is our wedding cake topper. My husband makes custom action figures for fun, so of course he would alter a couple of action figures to look like us and use as a cake topper...and I really loved it. The figures are from corpse bride and he painted the guys suit and the girls hair and dress. I have this sitting on my shelf in my living room so I can see it everyday. I probably should have left it there for the picture instead of this bright green but what can you do?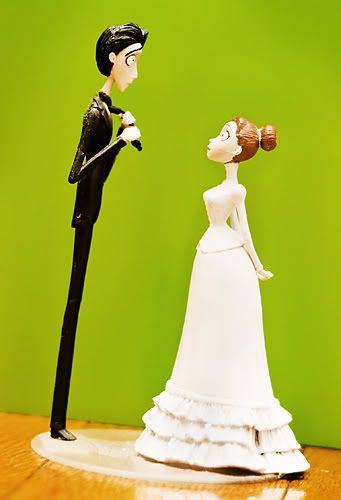 Here are some of the pics of it from my wedding day. I have to note here per my sisters request that the cake looks like that on purpose. I really wanted a topsy imperfect cake cause I am quirky like that. I loved it and think she did a great job, but she was so upset that she thought people would just think she messed up my cake.
All my wedding pics were by Steph Carson who is truely amazing. If you want to see some one of a kid super fun wedding photography check out her site.
(http://stephaniecarson.com/)