Six is such a tough age to photograph...at least for little boys. Or maybe it's because it is studio style. You can't really be too discreet and have them act natural like you can outdoors. Especially when they have to sit in a certain place for the background and lights. I think that might be my biggest struggle with studio stuff, making it fun for me. And I think I put less effort into it cause I don't enjoy it as much yet. Hopefully it's because I am still learning and someday it will be second nature. Either way I cannot wait for spring and to get outdoors. Sorry for that stream of conciense there.
Blaze is such a non-smiler for the camera these days (another reason I like outside better, it isn't so obvious I am taking his picture) Don't be fooled by the pictures though, this kid is a crack-up.
My two latest Blaze quotes.
Me: What sounds good for dinner?
Blaze: I dunno
Me: I want a really good hamburger.
Blaze: Yeah! Too bad we don't have the amazing slider machine. The burgers will be done in just two minutes, and you can double or triple stack them!
Gotta love infomercials, he also told me that the Snuggie won't slip and slide like regular blankets. That's my boy.
Our neighborhood electric was out last week too and he informed me that, "God's lights are always on for everyone". That is also my boy.
Aren't his eyes almost a perfect match for this Chestnut paper?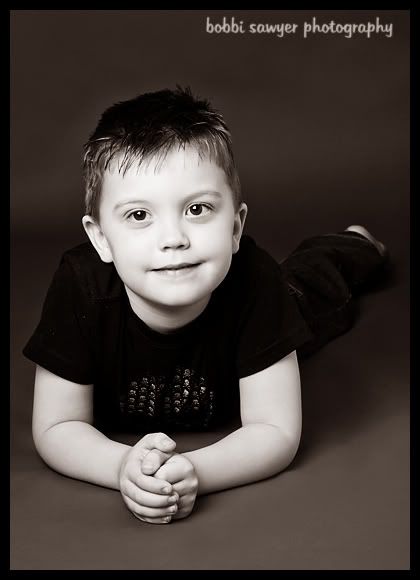 I gotta tiny smile out of the little guy.